NO FACE-TO-FACE CLASSES
ONLY 30 schools nationwide will push through with the pilot run of limited face-to-face classes scheduled to start on Nov. 15 and no school in Pangasinan has been included so far.
Cesar Bucsit, head of the Public Affairs Unit at the Office of the Regional Director of the Department of Education, said that no school in Region 1 has been validated to be included.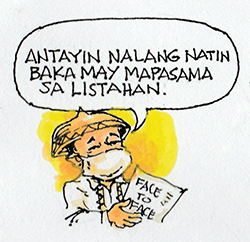 But the Regional Management Committee Meeting of the Department of Health (DOH) Region on October 17 identified two schools in Pangasinan that may still be included in the pilot run subject to validation by the Inter-Agency Task Force, DOH and Department of Education central office.
Two of the 12 schools in Region 1 for validation are Don Domingo Magno Elementary School in Pozorrubio and Longos Elementary School in Alaminos City.
Ten others are in Ilocos Norte.
The ten of the schools have been classified as low risk while two in Ilocos Norte, are considered minimal risks.
In case the validated schools join the pilot run of the face-to-face classes with shared responsibility by parents and the local government units (LGUs), they may still opt out if they think they are not ready, Bucsit said.
He said there were originally 57 schools selected but the number was subsequently reduced to 50, and finally to only 14 schools..
Bucsit reiterated the shared responsibility framework between and among DepEd-LGU-Parents will be closely monitored by DOH.
Out of the  targeted 120 are targeted schools (100 from public schools and 20 from private schools).
He said the final decision whether more will be added to the 30 will be known before November 15.
The timeline for the pilot implementation of limited face-to-face classes for school year 2021-2022 are: Nov. 15, 2021 – start of face-to-face classes and start of academic quarter 2; Nov. 15-Dec. 22, 2021 – assessment of initial run; Dec. 20, 2021- start of Christmas break; Jan. 3, 2022 – reopening after Christmas break; Jan. 31, 2022 – end of pilot study; Feb. 2022-evaluation of the pilot study and presentation to the President of the pilot report and proposed expansion; March 7, 2022 – target start of expansion. (Eva Visperas)